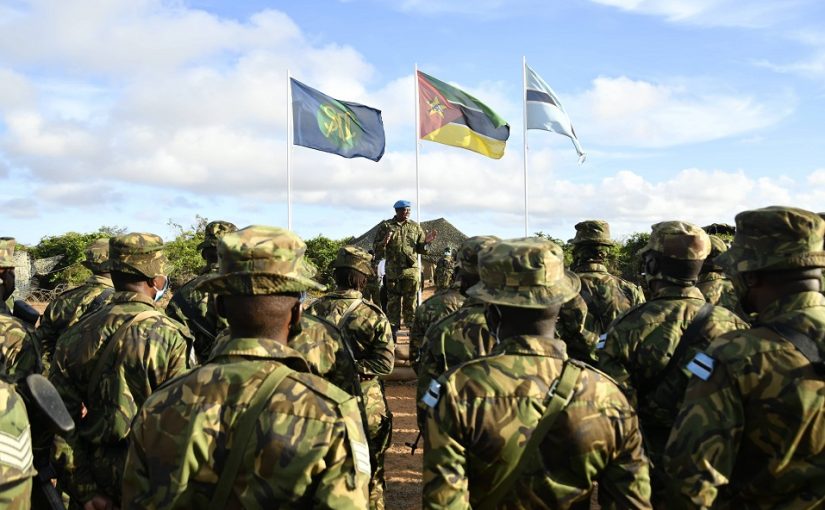 File photo: SAMIM
The European Union (EU) will disburse €1.9 million to the Southern African Development Community Military Mission (SAMIM), supporting Mozambique in the fight against terrorism in Cabo Delgado, an official source said on Tuesday.
"The project [for support of €1.9 million] for SAMIM has already been approved, and we are now exploring other possibilities of supporting the forces that are on the ground," said the EU ambassador in Mozambique, Antonio Sánchez-Benedito Gaspar, after a meeting with the head of Mozambican diplomacy, Verónica Macamo, at the Ministry of Foreign Affairs and Cooperation in Maputo.
A source from the European Union in Mozambique explained to Lusa that the aid is part of the "SADC Rapid Response Mechanism in Cabo Delgado" and will cover five months, with the priorities being the capacity building of local police forces, women's empowerment programmes and dialogues with local leaders on matters of good governance.
In addition to this support, specifically for the work of the SADC military mission in Cabo Delgado, the EU has approved a total of €89 million for training and capacity building of Mozambican troops under the European Peace Facility.
Earlier this month, the heads of state of SADC member countries approved the transition to a "more robust mandate" focused on stabilising the achievements made by the organisation's forces supporting Mozambique in the fight against terrorism in Cabo Delgado, where reconstruction is already underway at several points that were dominated by rebels.
Since July 2021, the government troops' offensive, with the support of Rwanda and the SADC, has made it possible to recover areas where there was a rebel presence.
The SADC military mission that is in Mozambique had its deadline extended in January in an operation budgeted at US$29.5 million (26 million euros), according to an announcement made at the time by Mozambique's President Filipe Nyusi.
Cabo Delgado province is rich in natural gas but has been terrorised since 2017 by armed rebels, with some attacks claimed by the extremist group Islamic State.
There are 784,000 internally displaced people due to the conflict, according to the International Organization for Migration (IOM), and about 4,000 deaths, according to the ACLED conflict registration project.
Source: Lusa